New member note types - injury, health
It's important that a coach knows if there is anything that a member is suffering from before a class starts. This is usually managed in a small gym by the closeness of the membership to the staff. However, with new members, new staff, casual staff cover or any other number of reasons this information can be easily missed.
To solve this problem we've added injury and health notes which appear alongside a members name in the booking list. This way the class coach can immediately see this important information in one place before class starts. It's a great way to keep the personal touch regardless of gym size and a great reminder even if you know every member already.
Simply mouse over the alert, or tap on touch devices, to see the note in an easily consumable way.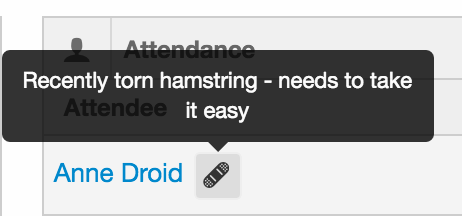 To add a new note, or edit an existing one, simply follow the member's name through to their profile.